Spy x Family Episode 23 Recap and Ending Explained – With the release of episode 22 on December 10, 2022, the Spy x Family anime's first season will soon come to an end. With its diverse plot that includes comedy, action, and even romance, the well-liked slice-of-life espionage series has something to offer everyone.
It should be no surprise that the anime adaptation won over fans' hearts, causing many to lament the conclusion of season 1 and wish for a second season of the anime. To ascertain the likelihood of "Spy x Family" receiving a second anime season, this article reviews season 1 of the anime, examines the manga, and considers current events.
"Spy x Family" episode 23, titled "The Unwavering Path." Here is all the information you require about episode 23 of "Spy x Family."
Spy x Family Season 1 Episode 23 "The Unwavering Path"
Recap and Ending Explained
Twilight and Nightfall (Loid Forger and Fiona Frost), who entered the Campbelldon subterranean tennis tournament as a married couple, have advanced to the finals. Kim and Carol Campbell, who are the children of Cavi Campbell, will be their opponents in the final round. The two Campbell youngsters try to outsmart the two spies by using every trick in the book, but they fall short against Loid and Fiona because of their superior strategy. Instead, the two spies uncover all of their tricks and use them against the Campbell kids to triumph. All audience expectations—especially Cavi Campbell's own—is disproved by this.
Campbell refuses to let Loid and Fiona take The Lady in the Sun painting from his gallery and demands that they take home a different one instead when they go to claim their reward. Loid fills in the blanks based on what he saw earlier on the tennis court; however, he doesn't elaborate on why the painting is no longer for sale. Loid noticed three men chatting with Campbell in the audience not long after he and Fiona defeated his kids in their match. The individuals were identified by Loid as State Security Service agents, who stated him they had learned of the painting's significance and were there to seize it before someone else stole its secrets.
Fiona requests to enter the gallery in an effort to alter their original plan so that she may choose an artwork after seeing it in person. Campbell agrees, giving Loid enough time to don a new disguise and proceed to exchange a replica of the picture for the original. Fiona explains that Campbell noticed his absence and that he went home because his hangover was becoming worse. Campbell readily accepts her lie as true and doesn't pursue the matter further because Loid and Fiona had feigned to be intoxicated on the tennis court.
Campbell gives Loid instructions to get the painting for the State Security Service agents when he arrives dressed as one of his workers. Fiona requests that her suitcase be put aside so that she can look through the gallery for a particular piece of art. Loid takes advantage of the opportunity to exchange the phoney artwork for the genuine one, which he subsequently presents to the State Security Service agents.
As soon as they take the phoney painting out of the frame, Loid leads Fiona back to her car. Loid takes off his mask in the parking lot, and Fiona exposes the things she stole from Campbell's art gallery. Fiona agrees to deliver the things to Sylvia Sherwood, called the Handler, as a gift on Loid's advice because she has no desire for them other than to complete the job.
Loid explains how he was able to steal the real painting out of the gallery without being seen during the way home. In this instance, Fiona concealed the phoney artwork inside the bag that held her tennis rackets, making it simple for Loid to switch the two without anyone knowing. Loid examined the real painting in the car and saw writing in the back left corner, scribbled in invisible ink. Logic dictates that Loid believes this to be the code indicating the whereabouts of the missing Zacharis dossier. Fiona and Loid bring the painting back to WISE's headquarters nonetheless so that their analyst team can decipher it.
After work, when Fiona takes Loid home, he asks to be left off close to his house so that his neighbours won't think he's cheating on Yor by choosing Fiona for a mistress. Loid graciously declines Fiona's offer to drive him to his house since she secretly wants to spend more time with him. Fiona admits defeat and leaves Loid in a nearby park where Yor, Anya, and Bond are all playing tennis together. Yor is taken aback when Fiona decides to get out of the car as well and welcome him. She then notices Yor holding a tennis racket and inquires as to whether or not she is a tennis player.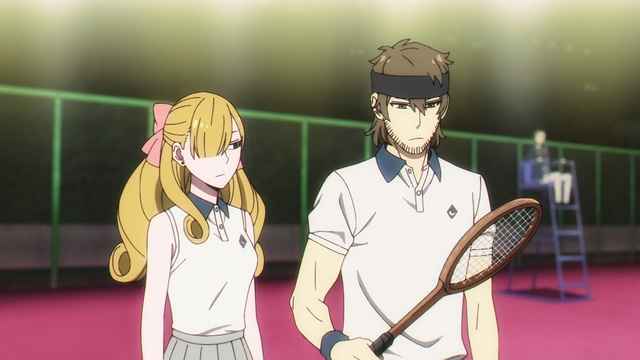 Yor acknowledges that ever since learning about her father's competition, Anya has become completely devoted to playing tennis. Yor is pleased as Loid takes this opportunity to express his gratitude to his wife and daughter for their assistance in helping him win the event. Internally, Fiona is irritated by Yor's praise for aiding Loid in a way that she feels is above her capabilities. She then makes the decision to challenge Yor to a match, which initially perplexes Yor but ultimately prompts him to accept.
Yor decides to give it her all and serves first, surprising Fiona by accidently breaking the ball in the process. Yor is able to strike the ball in Fiona's general direction on the second serve, but the force of her hit causes Fiona's racket to break. Fiona concedes loss at this point, but she also shows a desire to get better in preparation for a rematch, which she then follows up with by training in the mountains. Yor informs Loid that she won the battle in an effort to get his approval afterward, but he is perplexed by Yor's actions. When Anya requests dinner later that evening, Loid chooses to order takeout because he is too weary from the earlier tennis match to cook.
The next week, Sylvia provides Loid with an update on the findings of the painting examination at WISE headquarters. They learned the code was easy enough to decipher, which guided them to the Zacharis dossier's location. But as soon as they got it, they realised it didn't have any of the mysteries they were expecting. Instead, they learned that the owner of the dossier had a soft spot for very young actresses and liked to collect pictures of them. The actress photo albums were once requested to be disposed of by his wife, but instead of doing so, he decided to keep them hidden away in a safe place. In the end, there were no revelations in the dossier that could have sparked a new conflict.