What Is Boom Lift And Tips For Using It?
January 11, 2018

By : navi007

0 Comment
There are several names a boom lift is known as. Usually it is also known as man lift, basket crane, cherry picker or elevated work platform. Basically, it is a type of aerial work platform that is used for reaching out to high building and places. What makes it different than other elevated platforms is that it also has a bucket which is joined with its hydraulic system. Some boom lifts are mounted on a van while other are mounted on trucks.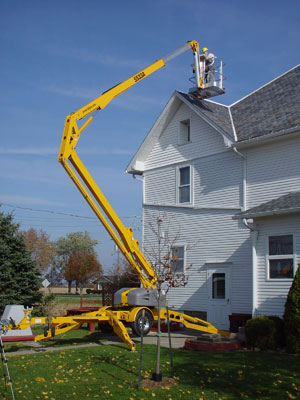 Courtesy: rentalzonepa.
Following are some tips that can help you in operating boom elevated work platforms safely.
Before using any kind of elevated platform, check it thoroughly, especially its fitting and hoses and ensure that there are no leaks or rusted areas. Also check if there is an optimum amount of air in tires.
Then use the lift without attaching any bucket or basket to the machine. Check every function of the machine and if it is in working condition. Then attach a bucket or basket to check if it can operate with the bucket on or not.
Make sure that the bucket has a safety harness for the rider. When you are in the bucket do not forget to attach the safety harness properly with the attachment provided to you.
Before starting your project, examine the area properly. Ensure that there are no potential hazards like loose soil, downed electric wires and so on.
Make sure that the task is finished before lowering the boom lift to its fixed position. Now lower the arms of the machine so that the rider can safely exit the bucket without getting injured.
Most importantly make sure that a trained driver and operator work with these kinds of machines.